-CWS-
THE CYBERUNIVERSE
WEBSITES SYSTEM
OF
JAMES A. PETRAIT


Go to cybermeme.net, a part of the Cyberuniverse Websites System of James A. Petrait.

You are about to take a voyage through the Cyberuniverse Websites System of James A. Petrait. This is the original gateway to my Cyberuniverse, Cybergalaxy, Cybermeme, and Cyberworld web sites. The Cyberuniverse was my first website and its main content is my biographical data. All of the sites are accessible from below. Choose your vehicle and come and take a fantastic journey.
This websites system originallyduses hand-made html (with the help of Claris Home Page 3.0) processed with an Apple Macintosh Ibook computer. Scroll down this index page and choose from the variety of original content in the areas of astronomy, radio astronomy, biology, evolution, radiation physics, SETI, religion, weather, memetics, photography and education. Also see related topics in the various links. Visit the Cyberuniverse Book Store and Amazon.Com below and explore interesting book titles. See a Salesian Cybermeme and look at the "Thought for Today" from the Daily Motivator. Search this site with Freefind or search 350 million web sites at Allthesites.Com. See the latest weather and Astronomy data anywhere in the world and have the opportunity to donate a meal to the hungry. Be sure to bookmark this site now because you may lose it or run out of time while checking out all of the interesting "stars" in my Cyberuniverse Websites System.

19 Years Old and Still Going!
Started in 1992 and updated on April 24, 2011
Geocities Archive - CyberGalaxy on Geocities: https://www.geocitiesarchive.org/arclc/a/t/athens/1555/

Go to the THE SALESIAN CYBERMEMES SHOW

Go to the THE FLOWER SHOW


Secondary cosmic ray particles called muons are constantly hitting the surface of the earth. Read about my project using geiger counters and a coincidence box to observe and study muons by going to Monitoring Muons on the Surface of the Earth.

70 Virginis is one of the first stars that were found to have a planet located near it. There are radio signals coming from the area of 70 Virginis. These are natural radio signals that have been picked up by the NRAO-VLA First Sky Survey. You can find many interesting natural radio sources in the sky by using the NRAO-VLA First Sky Survey online data. See the data of the 70 Virginis signals that I collected and find out how you can access radio data from the universe by going to Radio Sources at 70 Virginis.

Two articles that I wrote shortly after Hurricane Hugo on St. Croix were placed in the U.S. Congressional Record (February 29, 1990) by the VI Representative, Hon. Ron de Lugo. The articles begin with comments by Hon. Ron de Lugo. Hurricane Hugo started during the evening of September 17, 1989. Go to Hurricane Hugo Articles from the Congressional Record

View some of my best photos by clicking on the small photo of flowers below. Click the back button on your browser to return to the Cyberuniverse Gateway.


Read about my lunch with an astronaut by going to HE CAME FROM OUTER SPACE

Read about my thoughts about freedom by going to PHILADELPHIA FREEDOM

Read about my thoughts about traveling a spiritual journey by going to ...AND LEAVE THE DRIVING TO US

Read my article about the different ways of going to God by going to GO RIGHT OR GO LEFT BUT GO

Read a copy of my favorite poem by going to SONG OF THE MYSTIC BY ABRAM J. RYAN

I recently made a picture of a computer which can be seen in virtual reality using Quicktime VR. Check it out at MY FIRST VIRTUAL REALITY PHOTO

Explore the properties of "nothing" by going to the NOTHING WEB PAGE

If "nothing" is not interesting to you then try the ROY G. BIV COLORFUL WEBSITE

ROY G. BIV is back again with the ROY G. BIV COLOR CHOOSER WEBSITE

Play a game that you can't lose by going to the NAME GAME WEBSITE

See the animated GIF of the recent lunar eclipse over St.Croix at LUNAR ECLIPSE PHOTOS SEQUENCE OF JANUARY 20-21, 2000 OVER ST. CROIX

Read about a hurricane in Paradise. Teachers can use the article in their lesson plans by having their students graph and interpret the barometric data. Go to HURRICANE LENNY HITS ST.CROIX

If you missed my 2000 greetings, go to my 2000 CHRISTMAS AND NEW YEARS GREETINGS

Check out the current weather and astronomy data for St. Croix, Virgin Islands by clicking on the weather box towards the end of this page. You can also check out the same for your location from the weather site. Keep on scrolling you will find much more interesting content.

A WORLD CLASS SYSTEM OF WEB SITES!

Thanks to the many visitors from all over the world that have made the Cyberuniverse Websites System of James A. Petrait a world class one. Be sure to visit all of the sites and come back as often as you like and send email regarding what sites interested you the most. During the last several years the counters have indicated that this system of websites had visitors from these countries in addition to the United States: Antigua, Andorra, Argentina, Aruba, Australia, Austria, Barbuda, Belgium, Bermuda, Bhutan, Bosnia-Herzegovina, Brazil, Bulgaria, Canada, Cayman Islands, Columbia, Costa Rica, Croatia, Cyprus, Czech Republic, Denmark, Dominica, Dominican Republic, Ecuador, Egypt, Estonia, Finland, Former U.S.S.R., France, Germany, Greece, Guam, Hong Kong, Hungary, Iceland, India, Indonesia, Ireland, Israel, Italy, Ivory Coast (Cote D'Ivoire), Japan, Jamaica, Kyrgyzstan, Latvia, Lebanon, Lithuania, Luxembourg, Macedonia, Malaysia, Malta, Mexico, Micronesia, Moldavia, Mongolia, Mozambique, Nepal, Netherlands, New Zealand, Nicaragua, Nigeria, Norway, Oman, Pakistan, Panama, Papua (New Guinea), Peru, Poland, Portugal, Romania, Russian Federation, Saudi Arabia, Singapore, Slovak Republic, Slovenia, South Africa, South Korea, Spain, Sri Lanka, Sweden, Swaziland, Switzerland, Taiwan, Tanzania, Thailand, Trinidad and Tobago, Turkey, the Ukraine, United Arab Emirates, the United Kingdom, Uruguay, Venezuela, Vietnam, and Yemen. Visitors were also logged in from the U.S.Military and, the U.S. Government. If you logged on to this website and don't see your country listed, please send an email with the name of your country.

Below are listed the main sites in the Cyberuniverse Websites System of James A. Petrait. Choose from any of them which are all authored and maintained by me.

Where you are now is my original website. It includes references to my many interests in astronomy, biology, SETI, science education, and religion. It also contains my biographical data. From there you can return to this gateway to explore my other homepage sites, and look for books related to the topics from all of my sites by linking to the Amazon.com online bookstore.

This homepage has some of my photos of comet Hale-Bopp and my research using the 40-foot radio telescope at the NRAO facility at Greenbank, WV. I recently found signals that may have come from the area of the star, 70 Virginis. My research is very similar to that in the movie, "Contact". This homepage also contains some of the inspirational sayings of St.Francis de Sales and includes links to all of my homepages.

From here. you can go directly to some good thoughts from St. Francis de Sales at SALESIAN CYBERMEMES.

This homepage is an attempt to develop an evolutionary way of education in cyberspace by the use of the science of memetics. Visit this site and become infected with a kind of meme that is called a cybermeme!

This homepage is the one connected with the high school where I teach biology, physics,chemistry, astronomy, and electronics. It is the first home page of any school on St.Croix.

See 19 of the fantastic astronomical photos taken by the 1998 AASTRA+ Group at the McDonald Observatory. I was a member of the group and had the unique experience of helping to take some of the photos. Go to 1998 AASTRA+ PHOTOS.

You may read the messages sent into the universe at MESSAGES SENT INTO THE UNIVERSE

Experimenters may now participate in THE BACKGROUND RADIATION SURVEY PROJECT.

Experimenters may also participate in the THE COSMIC RADIATION PROJECT.

Learn about a new method of SETI communication by going to SEARCHING FOR EXTRA-TERRESTRIAL INTELLIGENCE BY THE ANALYSIS OF COSMIC RAYS.

Take a look at this interesting class project: ST. JOSEPH HIGH SCHOOL ASTRONOMY STUDENTS BUILD A WORKING MODEL OF THE SOJOURNER VEHICLE.

February 26, 1998 was the time to see the solar eclipse on St.Croix. Clouds blocked the view at St Joseph High School but we still observed it. Find out how at VIEWING THE 1998 SOLAR ECLIPSE THROUGH THE CLOUDS.

Read about a hurricane in Paradise. Teachers can use the article in their lesson plans by having their students graph and interpret the data. Go to HURRICANE GEORGES HITS ST.CROIX

Read the story of what Christmas means to me, MOM'S LAST CHRISTMAS PRESENT. I wrote the article after my mother passed away on Christmas Day, 1993.

Read a story of intercessary prayer to St. John Neumann, DAD'S LAST NEW YEAR'S EVE. I wrote the article after my father passed away on New Year's Eve, 1983.

Listen to the prayers of the Rosary at THE ROSARY WEBSITE.
(NOTE: Your web browser needs to be able to process AU audio clips and it may take several minutes to load the audio for the prayers of the Rosary. If this site does not work completely, you may have to increase your CACHE size to around 2 megabytes or more and reload the site.)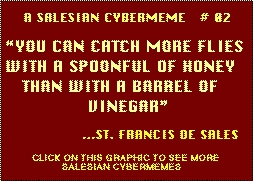 Original Cybermeme non-changing Format

GO DIRECTLY TO AMAZON.COM FROM THE BOX ON THE LEFT. CHOOSE FROM THE VARIETY OF PRODUCTS THAT ARE LISTED.

OTHER RECOMMENDED WEBSITES

Visit the first Catholic Parish on St.Croix to have a website at
ST. JOSEPH CHURCH AT ST. CROIX.

Visit the first South American website of the Oblates of St. Francis de Sales at
LIVING JESUS WITH THE OBLATES OF SOUTH AMERICA



© 1992-2011, James A. Petrait
Send e-mail to James A. Petrait: jpetrait@earthling.net